Archived news
March 2022
Child and Maternal Health updated
February 2022
PHOF: quarterly update published
December 2021
HIV indicators updated in time for 1st Dec, World AIDS day
Cancer Services: annual update released
September 2021
All 14 STI indicators have been updated to include 2020 data in the Sexual and Reproductive Health Profiles
Provisional STI data up to March 2021 are available from the WICH tool.
July 2021
Now available a beginner's guide to using the Fingertips API. 
March 2021
New design launched. New navigation improves the usability especially on small screens.
Child and Maternal Health updated and new
PDF reports for Counties & UAs published:
September 2020
Wider Impacts of Covid on Health launched. Brings together selected indicators with potential impacts on health as a result of the COVID-19 pandemic.
July 2020
New smoking prevalence in adults estimates for 2019 published in the Local Tobacco Control Profiles including inequalities data, plus a new indicator measuring the gap in smoking prevalence by mental health status and updated data for cancer registrations and smoking-related fires.
June 2020
Fingertips updates once a month and each profile follows its own (annual) update cycle which might have to be altered due to the demands of the COVID-19 related work.
For the latest figures about COVID-19 please view the COVID-19 dashboard
March 2020
Annual PDF snapshot child health profiles for upper-tier local authorities published and online child health profiles have been updated
New End-of-life Health Care indicator:
% deaths with 3+ emergency admissions in last 3m of life
February 2020
Note: Issues have been found with recent updates to hospital activity indicators due to a flaw in the data source: Apr - Nov 2018,  85,000 records without a diagnosis code were submitted in East Sussex. This error affects all related geographies which include this hospital's catchment area.
January 2020
Primary Care Networks added.
This new area type depends on suitable GP data. For more details please see the Notes
December 2019
Annual update of Cancer services and National GP profiles
October 2019
Updates for many indicators in Wider determinants of Health
Palliative and End of Life Care Profiles: Name change and Resource directory added
High impact Areas
Summaries for Early years and
Young people released: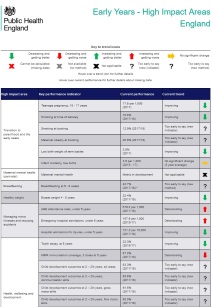 June 2019
Productive Healthy Ageing Profile launched
Data can now be downloaded with Python using the fingertips_py package
March 2019
New Child health profiles published
January 2019
Personalise what you see - create your own area lists using Your data (top right)
December 2018
June 2018
Overview of Child Health updated
April 2018
You can now create your own lists of indicators to focus on the data that is most relevant to you. Sign up to start creating your lists.
December 2017
GP profiles: New format and new data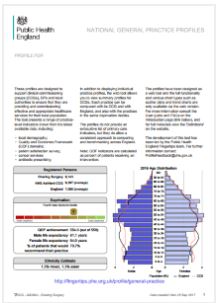 November 2017
Musculoskeletal Diseases
New profile launched
July 2017
New Health Profiles released