These profiles have been developed by the National End of Life Care Intelligence Network (NEoLCIN) to improve the availability and accessibility of information and intelligence around palliative and end of life care. They provide an overview across multiple geographies in England, to support commissioning and planning of local services.
The data in the profiles are grouped into topics. These include:
place of death
underlying cause of death
mortality
death in usual place of residence (DiUPR)
care homes and community
hospital care
dementia
Classification of place of death is a guide that supports the methods used for all place of death indicators on these profiles.
The July 2022 update on the percentage of deaths with 3 or more emergency admissions in the last 3 months of life is accompanied by a statistical commentary.
Factsheets
Care home factsheets for England and UTLAs
These factsheets include trends in care home deaths and data on care home bed availability by service speciality for England and upper tier local authorities (UTLAs).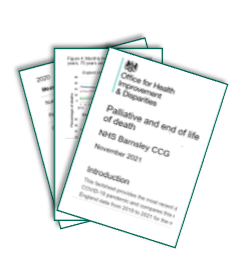 Place of death factsheets for CCGs
This factsheet provides the most recent data available on trends in place of death at CCG level during the COVID-19 pandemic and compares this with the pattern seen in 2019 as a baseline.
It compares CCG and England data from 2019 to 2021 for the number and percentage of deaths in hospitals (acute or community, not psychiatric); at home; in care homes; in hospices (not community), and 'other places'.   
Place of death factsheet webinar slides
This gives an introduction to the key features and functionality of the factsheet. 
Resource directory
This directory of intelligence and guidance supports the data in these profiles. These cover the following themes:
This will be updated quarterly.
The National End of Life Care Intelligence Network (NEoLCIN) is not responsible for the contents or reliability of the linked websites and does not necessarily endorse the content expressed within them.
Atlas of variation for palliative and end of life care
The Atlas of variation for palliative and end of life care pdfs are located in the 'Themed Atlas' section. They contain 29 indicators on the quality of care in hospitals, services and in the community.
A supporting NHS Interactive Atlas version enables organisations to view the data at a local level and see where they sit within the national landscape or within their peer groups. The Atlas includes maps, charts, time series data and associated statistics across all the indicators.
Contact us
Find more resources and information from the National End of Life Care Intelligence Network about Palliative and end of life care on .GOV.UK web pages.
Send feedback and questions to neolcin@dhsc.gov.uk
Subscribe to receive our latest updates.