Find your Health Profile
loading
Introduction
The Health Profiles provide a snapshot overview of health for each local authority in England. They are conversation starters, highlighting issues that can affect health in each locality.
Health Profiles aim to: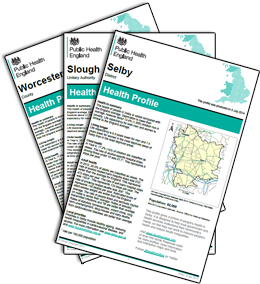 provide a consistent, concise, comparable and balanced overview of the population's health
inform local needs assessment, policy, planning, performance management, surveillance and practice
be primarily of use to joint efforts between local government and the health service to improve health and reduce health inequalities
empower the wider community
Traditionally the Health Profiles have been a 4 page pdf report. These reports have been produced annually since 2006 - all previous versions are available to download from this website.
The most recent pdf report was published in July 2017 and contained 30 indicators. Indicators are reviewed regularly to ensure that they reflect important public health topics.
This website allows you to explore and download the data using the online tool and to download the freely available pdf reports.
If you have any queries our 'Frequently Asked Questions' section is designed to help or alternatively you can use the 'Contact us' section to email us.
Future updates
Health Profiles are Official Statistics, future releases are published on the Statistics Release Calendar. The calendar includes both planned updates to the Health Profiles online tool and planned future releases of the annual Health Profiles pdfs. 
In addition to planned updates, the online tool is updated when new data become available for each indicator in the profile it is sourced from. 
Official Statistics are produced impartially and free from political influence, further information on types of statstics can be found at https://www.statisticsauthority.gov.uk/.
Previous updates
For details of previous updates visit the Health Profiles collection on GOV.uk: https://www.gov.uk/government/collections/health-profiles.
Indicator updates are recorded in the recent updates box when new data become available for each indicator outside of planned Health Profiles updates.
The Health Profiles online tool
The pdf reports are supplemented by the Health Profiles online tool. The online tool is updated when new data become available for each indicator. 
The data can be accessed by clicking the 'START, Go to the data' button.
Data in the online tool are grouped into five domains in the same way as presented on the spine chart on page 4 of the pdf report:
Our communities
Children's and young people's health
Adults' health and lifestyle
Disease and poor health
Life expectancy and causes of death
These domains are also displayed together in a single list under the heading 'All spine chart indicators'.
See the 'Frequently Asked Questions' section for help with using the online tool.
Inequalities
An additional domain called 'Inequalities indicators' was added to display indicators previously only available in the pdf reports. These are best viewed using the 'Inequalities' display option.
Data for these indicators can now be directly downloaded from the Health Profiles online tool using the 'Download' tab.
Local Health
The Local Health tool has been developed to display information broken down by other geographies including:
Wards
Middle Layer Super Output Areas (MSOAs)
Clinical Commissioning Groups (CCGs)
Sustainability and Transformation Plans (STPs)
Parliamentary constituencies
The tool allows you to:
access interactive maps and reports
create your own geographies
compare any selected area to the England average
produce maps and reports for these bespoke areas
The tool can be accessed via http://www.localhealth.org.uk/